Home » Pemco Products » Dual Leg Anesthesia Shield : 4010-02
Product Description
Pemco  Dual Leg Anesthesia Shield
Pemco's  Dual Leg Anesthesia Shield protects the area around the patient's head and shoulders. As a result, the shield reduces undue application of pressure to the patient and  monitoring lines.
Other benefits include expansion of the surgical field, movement with the OR table, and a defined anesthesia workspace.
The shields have a tabletop surface that can be used for placement of surgical instruments, keeping them in the surgical field.
The anesthesia shield's feet slip into rectangular holders mounted to the head of the OR table railing, allowing the shield to move with the table.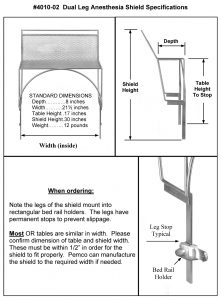 Shields provide a fixed and open space for the lines and vent tubes.
All Stainless Steel construction allows for easy cleaning.
When ordering:
Note the legs of the shield mount into rectangular bed rail holders. The legs have permanent stops to prevent slippage.
MOST operating room tables are similar in width. Please confirm dimension of table and shield width. These must be within 1/2″ in order for the shield to fit properly. Pemco can manufacture the shield to the required width if needed.