Home » Pemco Products » Access 2 Anesthesia Shield Screen : 4010-AC
Product Description
Access 2 Anesthesia Shield with Adjustable Screen
The Access 2's streamlined style, light weight construction and wide range of adjustability, satisfies surgeons and anesthesia provider positioning preferences.
The Access 2 comes with several practical conveniences and safety features to protect the facial area.
The face shield can easily be repositioned. Also, tubing clips on the face shield allow the ventilator tubing and the TEE probe to be supported. This results in decreased risk of injury to the patient.
Sturdy spring clips keep sterile surgical drapes securely in place.
A hanger for bed hand held controller provides access and a clear view of controls.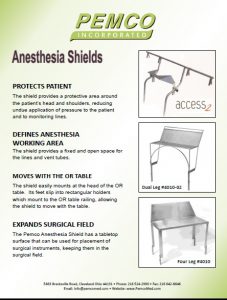 The Access 2 Shield collapses for easy storage.
Function
The Access 2 is designed to be used as an anesthesia screen for cardiac surgical procedures.  The shield provides protection for the  patient's facial area from potential injury by surgical staff and surgical instrumentation during the procedure.
The shield allows the anesthesia personnel to have access to the patients face and neck during the surgical procedure for the purpose of adjusting or manipulating the TEE Probe, endotracheal tube, and central lines etc as needed intra-op.  The Access 2 holds the sterile surgical drapes securely in place maintaining a sterile barrier between anesthesia personnel and the surgical field, yet allowing anesthesia personnel necessary visualization of the surgical site.