An American Manufacturer of Precision Reusable Cardiothoracic Surgical Instruments Since 1955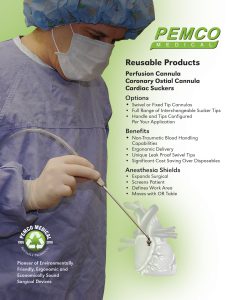 Pemco reusable instruments reduce cost by minimizing the use of disposables.
3 Units Pemco Reusable Versus 200 Cases Disposable Cannula & Suckers
Reduced medical waste management
Reduced hazards to the environment
Reduced risk to the health care worker
Reduced licensing, handling, and inventory
Pemco's manufacturing and machine shop facility was founded in Cleveland, OH in 1946, and since 1955, we have designed and manufactured precision surgical instruments for the cardiovascular field. 
Today, Pemco is proudly a third generation company with a rich history of manufacturing and the most state-of-the art equipment to meet your current and future needs.
–William J. Koteles, CEO, President
Pemco's designs are ergonomically sound and an environmentally helpful to any operating room.
Pemco works with both industrial and medical clients to custom manufacture products to meet specific need