Home » Pemco Products » Intracardiac Suckers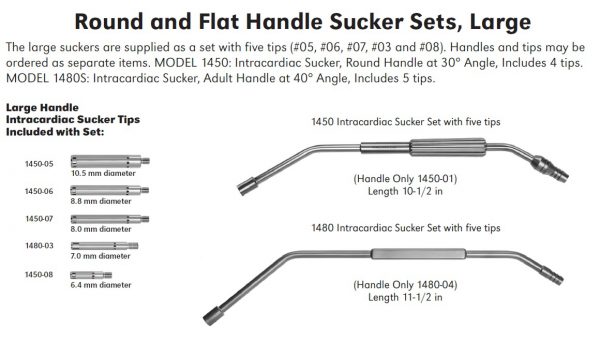 Available in sets or individually.
The large suckers are supplied as a set with five tips (#05, #06, #07, #03 and #08). Handles and tips may be ordered as separate items. MODEL 1450: Intracardiac Sucker, Round Handle at 30° Angle, Includes 4 tips.
MODEL 1480S: Intracardiac Sucker, Adult Handle at 40° Angle, Includes 5 tips.
• Tips are grooved and slotted to allow for better flow and prevent clogging
• Suckers have 1/4 barbed end
• Alternate tip and handle styles are available
• Refurbishing extends product life and provides additional cost savings