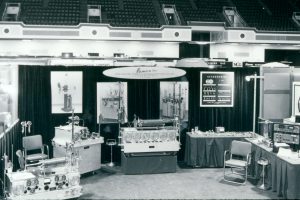 The summer months mark the end of our regular trade show series. For several years Pemco and Rultract have participated at the Society of Thoracic Surgeons, Association of PeriOperative Nurses, International Association of Healthcare Materials Management, and the American Association of Thoracic Surgeons yearly conferences. The booth set-up has changed over the years.
2020 was the year most conventions were cancelled, except for STS in New Orleans due to COVID-19 virus outbreak. Pemco is disappointed we were unable to see many of our colleagues and customers face to face. We really enjoy sharing ideas for product development.
Here's a picture from one of our display booths at a conference in the 1950's.